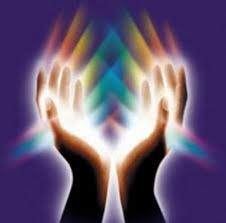 Reiki is a healing energy. It is a Japanese word meaning "Universal Life energy/Life Force". It was developed by Dr Mikao Usui who spent many years practising and teaching Reiki. It is now passed on from Reiki Masters to their pupils.
It is a way of working with healing energy to help to heal yourself and others.
Practitioners are attuned to ancient Reiki symbols during their training. These are used to increase the healing energy.
Reiki Treatment
A Reiki Treatment will harmonise and enhance any other form of healing treatment, both orthodox and complementary therapy.
A treatment can be given sitting up or lying on a couch. Lying on a couch is preferable as it enables all parts of the body to be reached easily.
Reiki is not related to any belief system. It can be learned by anyone, and anyone can receive it, as long as their desire is to be healed.
The whole person is treated, rather than the symptoms, and this will support the body's energies to heal itself.
Energy is channelled through the practitioner's hands and flows through the energy systems of the body. Any blockages in the body's energy system will cause illness, which could be emotional or physical. The Reiki energy helps to clear any blockages and allow the body to return to good health.
As well as healing, it can be used to awaken spirituality and enable personal development, giving one a clearer picture of their true self and enabling a deeper self-love.
Regular healing sessions can help with harmonising body, mind and spirit. If you have a health concern, weekly sessions are recommended for a few weeks.
Reiki can also be used to help balance the body, even if you have no symptoms. A balanced body is less likely to get ill.
There is no need to remove any clothing, Reiki energy will pass through anything. The practitioner will hold their hands in various positions over the body, holding for a few minutes in each position.


A Reiki treatment lasts approximately 45 minutes and costs £25.00. Payment can be made via paypal.me/healingpathway or by cash in person

Reiki can also be sent as a distance healing treatment. The person receiving the healing is not present for this. It can be sent anywhere in the world.